The 988 Campaign for Canada, and the Twitter hashtag #Bring988toCanada we created, are dedicated to the families of the victims who have been tragically lost.  May their memories be a blessing and serve to bring about awareness of the changes that are needed to deliver the mental health support Canadians deserve.
What Canadians, and the families of loved ones lost to suicide, are saying about 988.
As someone who came so close to ending my life, I know what it is like to fumble through a bunch of numbers looking for the crisis line. When I finally found one to dial, my hands were shaking so much I dialed the wrong number twice. It was too long. Only a knock at my door from a family member saved me. But what would have happened without that? 988 is a great idea!
I'm a retired cop. I remember what it used to be like for people in an emergency before 911. Why would they not want the same idea to prevent suicide, which is taking too many law enforcement lives.
Don't these politicians in Ottawa understand that when they ignore someone like you trying to save people they are really showing disrespect to the families left behind to suicide?
I want to support your efforts in the memory of my daughter. If your 988 just saves one life it will be worth it.
What I don't understand is why Canada's politicians are cool to this innovation. What are they there for?
I saw your interview on CTV. You have such compassion. Families appreciate this so much. I support your 988 campaign.
Your idea is so great. Just like 911 but for stopping suicide. Please keeping fighting for it.
We lost our Tommy to suicide. I wonder if this idea might have saved him. I was interested that you said experts say it will save lives.
This is the official site of the 9-8-8 Campaign for Canada. It's an  innovation in combating suicide that CTV National News called "three numbers that could make all the difference." Intended to replace the current nation-wide 11-digit suicide prevention hotline number, 9-8-8 will provider a faster and more direct way for those in crisis to reach out for the help they want, when seconds count in saving lives.
<
Every day, 11 Canadians die from suicide. Every year, 100,000 attempt to take their lives —  men, women and children. They come from every part of Canada and every socio-economic group. Some populations, such as indigenous and LGBTQ communities, are at especially high risk, as are victims of sexual trauma. When Canadians need to reach out for help with a mental health crisis, we deserve to get it as quickly as possible, just as we do when we call  9-1-1 for the help of police, fire or ambulance. That's what 9-8-8 can do.
The easy-to-remember, faster-to-dial 9-8-8 hotline system is already underway in the U.S, in response to the crisis of suicide there. It has the bipartisan support of the U.S. Congress, as well as the best clinical thinkers in mental health. We need it in Canada. The question is not, "Why do we need it in Canada?" it's, "What can we do to get it up and running as quickly as possible?" It's time our politicians got on board and made it happen.
Canada's Mental Health System is Broken. My experience getting 988 moving, against a wall of smugness and indifference, shows just how badly it needs to change.
Four years ago, I introduced this country to the promise of a 988 hotline system for suicide prevention and began my campaign to bring 988 to Canada. It was a journey that has revealed a lot about how Canada lags behind in mental health support, and how difficult it is for outsiders, even with the best ideas in the world, to penetrate the insular mental health establishment.
For nearly two years, I reached out to healthcare ministers across Canada and mental health groups to get their support for the idea that began in the U.S. Experts there called it a real game changer for saving lives. But in Canada, nobody was interested. If it had not been for CTV's top medical correspondent Avis Favaro, and chief anchor Lisa LaFlamme getting behind the idea in a major segment a year into my campaign, I wonder if anything would be happening today. It took countless media interviews on the subject and dozens of op-eds written by me before the powers that hold the fate of mental health delivery in their hands, including political leaders, woke up to 988. Then they promptly ghosted me and all the families that got behind it right out of the picture.
988 will become operational at the end of 2023. It has taken far too long. It could have been up and running much sooner if mental health gatekeepers had been open to ideas they don't actually create. It is not surprising that with such a culture, Canada lags most other industrialized nations in meeting its mental health challenges. I wonder how many lives could have been saved if there had been an earlier response to my campaign. That's the message I get every day from countless Canadians who have lost loved ones to suicide and see 988 literally as a lifeline – too long in coming.
Frankly, I worry that without the innovative thinking that brought 988 to Canada, parts of it will be missing or not delivered with the robust support necessary to get the job done.  A truly effective 988 system needs to be for mental health crisis, not just suicide prevention. A big part of mental health crisis today is the epidemic of intimate partner bullying, abuse and violence.
Several years ago, I called for 988 Canada to be expanded to provide crisis support for victims of intimate partner violence. This would be for cases that have not reached the point where 911 intervention is necessary and victims are looking for quick access to information about their options.  Getting information easily and quickly can make all the difference in preventing tragedy. Canada would be the first nation in the world to have a three-digit hotline available for these situations. But those in charge of rolling out 988 won't even give it a thought.
Recently, the federal government announced it had committed $156 million over three years for implementing 988. A lot of people and organizations make a lot of money from mental health in Canada. My campaign was not one of them. Every penny of the campaign, its web presence and the time it took away from other income producing activities, came out of my pocket. Not a dime came from the federal government or any mental health agency.  No rich donor, and there are many in healthcare, wanted to get behind something that has the word suicide in it.
Like any family member who has lost a loved one to suicide, I've already paid a high price.  I don't intend to have that memory insulted by being ghosted out of 988's beginnings, or to be treated like what we have done, and I include all the families who have shared their harrowing experiences with me, doesn't matter.
What I have found on this journey, as countless families have as well, is that the mental health community really is a cozy club. If you don't belong, they don't want to know you. So much for the all-hands-on-deck approach called for by some mental health professionals who say we need a better way to approach this crisis.
988 is a beginning.  But so much more needs to be done to convert Canada's closed, moribund mental health system into one that is open, susceptible to the sunlight of new ideas and capable of delivering the compassionate care and support we all need.
Note to Visitors: Many of the postings, comments and articles on this site were made prior to the Canadian government's approval of 988. Since that time, the implementation of the 988 lifeline system has been in the hands of the CRTC and the Centre for Addiction and Mental Health (CAMH).  During the nearly two years this campaign was reaching out to both these bodies, among others, to urge support for 988, no one ever responded.  None. In the months since 988 was approved, they still have not been in contact with the campaign that brought 988 to Canada.  Many, especially family members of loved ones who have been lost to suicide or suffer from debilitating emotional distress, wonder why Canada is not making more progress in combating mental health crisis and delivering better mental health services. The story of 988 is one part of the answer. 
Latest
Kathleen Finlay interviewed on the CTV News Channel on CRTC's approval of 988 for Canada, beginning in November 2023.
Kathleen Finlay, founder of the 988 Campaign for Canada, interviewed on the CTV News Channel anchored by Angie Seth.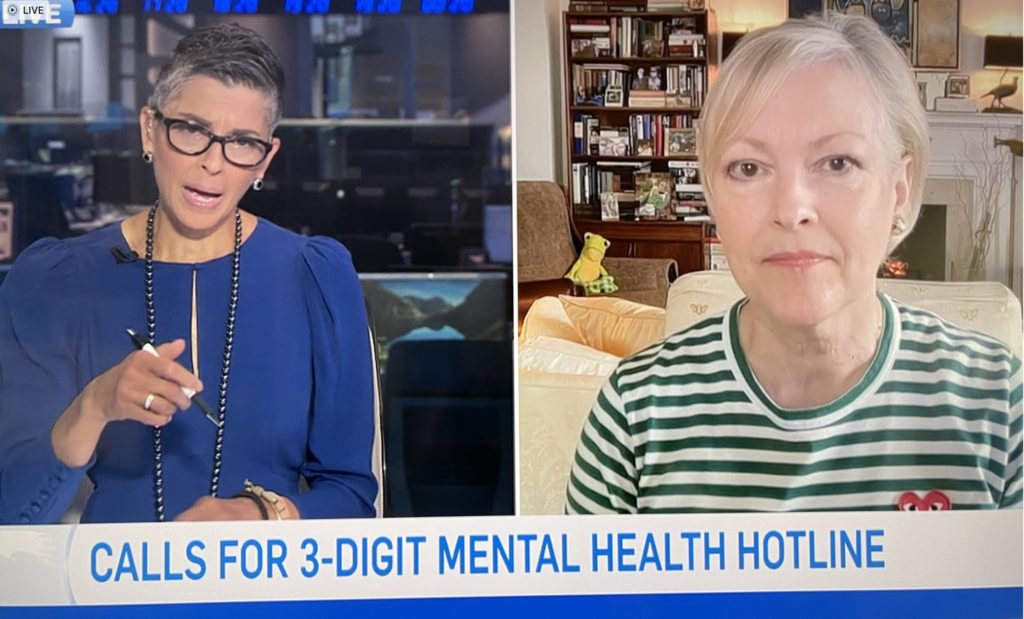 _________________________________________________
Kathleen Finlay talks about her  campaign to bring 988 to Canada on CBC National News and the World at Six.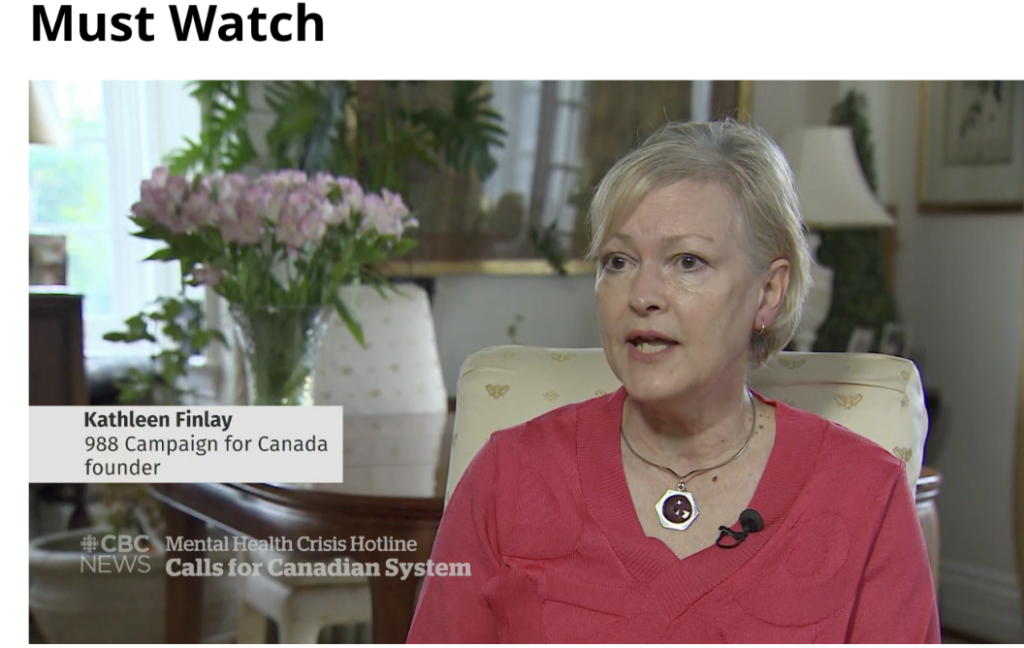 Audio interview on CBC Radio News flagship The World at Six
Watch Kathleen Finlay's interview on Wild/Outdoor TV. Support for 988 is coming from every quarter in Canada. It's time to make it a reality. Watch what CTV National News chief anchor Lisa LaFlamme says about 988, the three- digit national suicide prevention lifeline, and the woman behind the campaign to bring it to Canada. Then read more about it inside. It really does beg the question: With an innovation like this that has been shown to be a game- changer in saving lives, why are our federal politicians giving it the back of their hand — even as our rates of suicide and mental health crisis soar during COVID-19. 
Read more about our 988 Campaign for Canada, and Kathleen's efforts to raise awareness about the risks and causes of this epidemic of suicide, and innovations that can make a big difference in preventing it.